ScrimWorks ScrimFrame Display represents the ultimate in interior marketing innovation, featuring custom aluminium frames, onto which interchangeable screens can be snapped into place, meaning that your interior marketing can be as dynamic as your business, and flow with your campaigns in an effective and brilliant manner.

ScrimFrames feature interchangeable 385gsm Tensile Polyfabric panels, which are 100% blockout, with custom edging ensuring a quick, and simple installation process. Each custom aluminium ScrimFrame is customized according to the space in which it will reside, meaning you're not at all limited to standard sizes and can create a space which is unique to your business.
Product:
ScrimWorks ScrimFrame Display
Material:
385gsm PolyFabric (Back & Front Lit) 100% blockout
Frame Extrusion:
Re-Usable Aluminium, Custom Snap-in Assembly
Print Abilities:
Custom Latex Converted Print, 1200dpi
Strength:
Aluminium Frame, Alumnium Assembly Fixings
Environment:
100% recyclable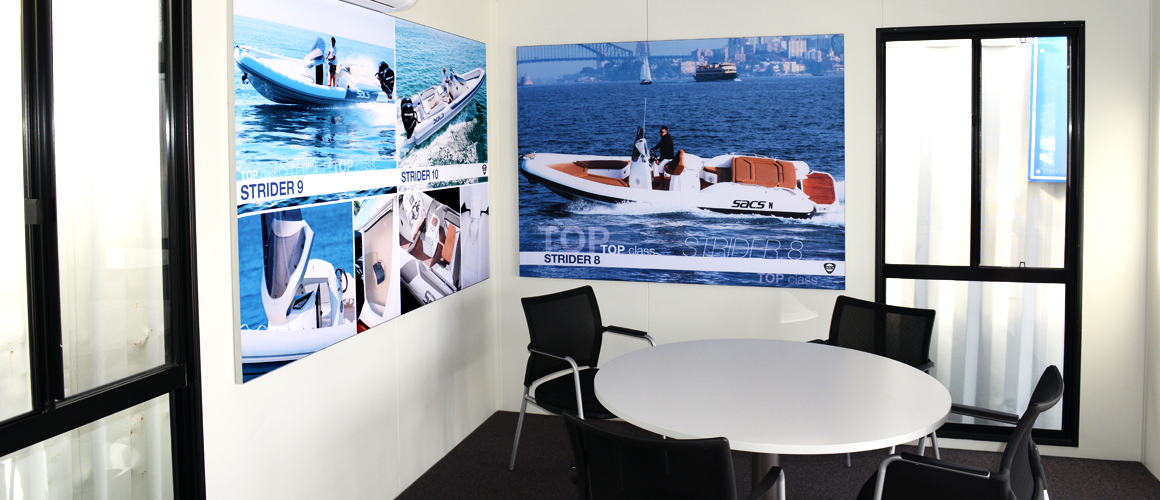 PRODUCT INSPIRATION
Whether you're in the business of Boats, Beers, Burgers or Blouses, we know that businesses should be able to dynamically change their range and promotions just as quickly as they can make sales.

This is where ScrimWorks ScrimFrame comes in. Manufactured to custom specs, powder coated, snapped in and mounted into your outlet. Great ease: in any position.

The frames customizability means they can be manufactured to fit wherever you have the space. If your business ever decides to alter itself and morph with the marketplace; remove the current fabric and insert a new one. The rubber sewn in edging makes this a fast and simple task – the frame is as interchangeable as your t-shirt, slip one off, slip on a different one!

Mary's Burgers have utilized the frames as a lightweight and easy solution for big branding at events such as Splendor in the Grass, Laneway, Gentlemen of the Road, Spectrum Now and Newtown Festival - Tasty!

On the other hand, Sacs Marine, purveyors in premium Italian Watercraft chose ScrimFrames to showcase their opulent range of leisure cruisers - Stately!

We have a great passion in interiors and their design, and are always asked for our input and services when clients are considering the layout of their interior. We have a great knowledge in what's available, and if it's not, we can make it happen with you.