FoamCore is a high quality and lightweight foam media which features an extruded polystyrene core, laminated with white high GSM printing paper stock on each side, making it a smooth alternative to traditional Corflute ideal for showcasing images and information up close.
The material is typically used for artwork mounting and framing, however ScrimWorks has found exceptional results in Point of Sale, Show Rooms, Poster Mounting and Real Estate Display Suites.
FoamCore is available in 2mm, 3mm, 5mm and 10mm thicknesses. Depending on your application would depend on the choice of thickness; however one thing you can depend on is the super high definition 1200dpi print quality, which produces fantastic vividness even in the most intimate environments.
Product:
ScrimWorks FoamCore
Material:
2mm to 10mm Polystyrene core, High GSM art card laminate
Sizing:
Customized to any size within 2400x1200mm
Capabilities:
UV stabilised, Solvent, Latex Converted inks 1200dpi
Strength:
Sturdy Polystyrene Core
Environment:
100% recyclable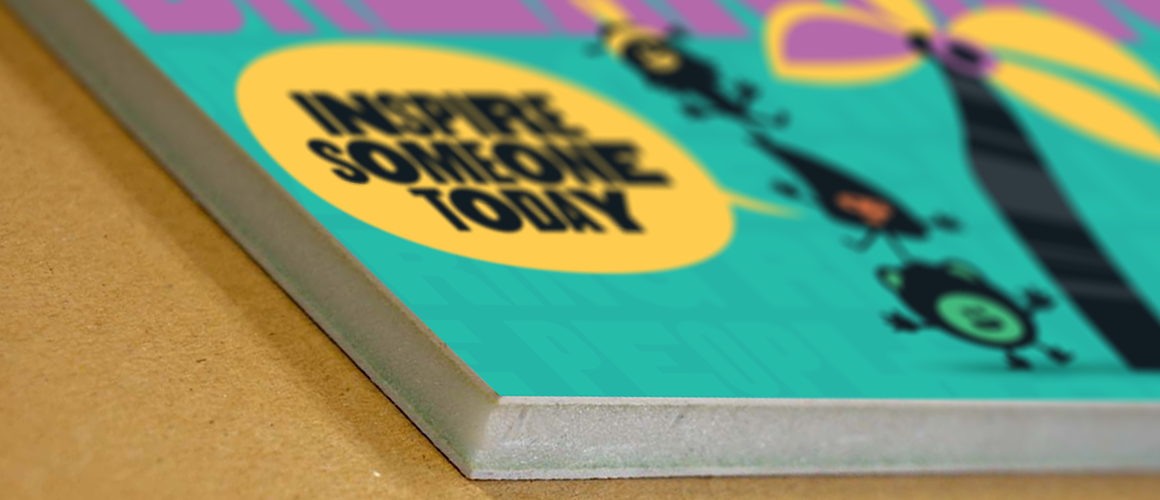 PRODUCT INSPIRATION
If you've been to the gallery, if you've been to the framer, or even if you've been sussing out properties down at your local agent - you've come across FoamCore in your life. Characterised by it's light weight and fine image, it's the perfect backing for something everyone wants to look at, whether art, or a new home, or art in your new home (amongst other things of course).

One of our favourite design agencies in the Real Estate space, a firm who takes on the branding of some of the most impressive, innovative and luxurious developments in NSW, chooses only FoamCore for their clients sales offices and premises. The astounding print production is full and bright in it's delicateness, and exudes an absolute premium form with the finest detail imaginable. Only this material can do justice of such opulent abodes, and we really love impressing people like that.

FoamCore is also very versatile, if you have a vision you'd like brought to life, that isn't necessarily within the aforementioned four walls, and cannot be housed within the mind of a non-dreamer, get in touch and let us activate the beauty in your activations.